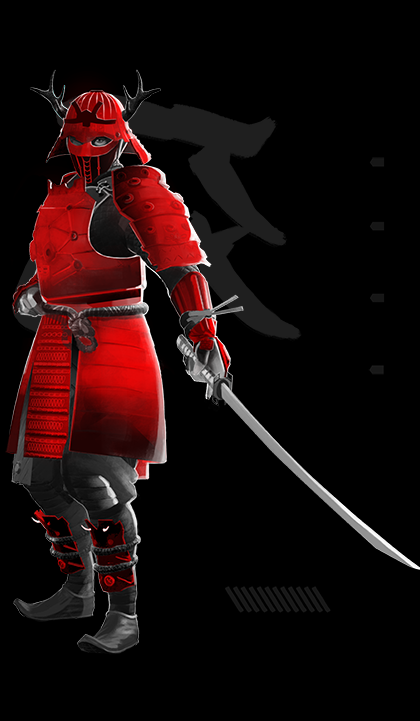 Nakamura
Favorite Weapon:
Nodachi
Info:
Nakamura is a shadowy commander and a fearsome warrior loyal to Ashikaga Daimyo. He is leading a battalion of grunts which are now patrolling the lands in the name of Ashikaga.
Motto:
I have nothing to say to rebels and outlaws.

Assassin
Krasnaja

Favorite Weapon:
Naginata
Info:
Known as Krasnaja (Russian for 'Red'), her real name is unknown. Neither is it known why she has chosen Japan as her theatre of operations, although it is suspected that she made powerful enemies in the Soviet Megaplex she comes from.
Motto:
"Da, I kill you now, I still get paid."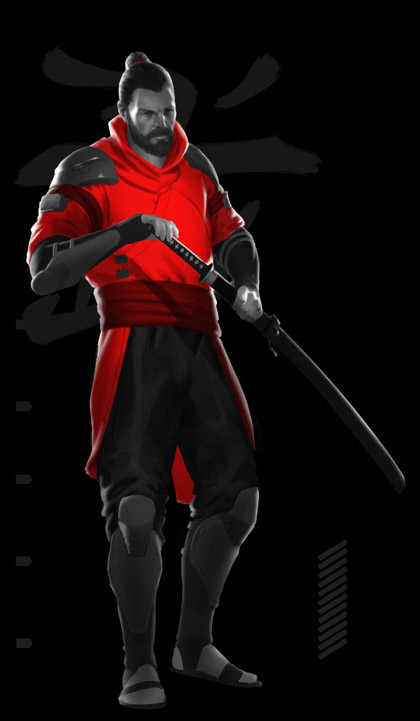 Travelling Swordsman
Yoshide

Favorite Weapon:
Katana
Info:
As a wandering Samurai (Ronin), Yoshi lives his life by helping the locals with problems they are facing, whether it's bandits or other menial tasks. Yoshi has a pure heart and his motivations and honour are important to him.
Motto:
"Why should a fly be concerned with the flow of an ocean?"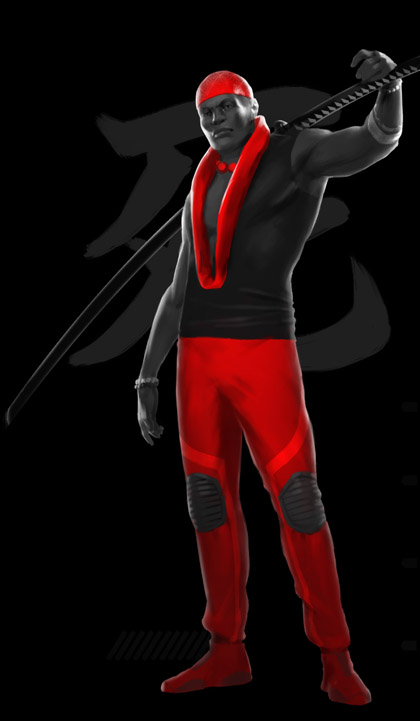 Monk
Tony
Favorite Weapon:
Nodachi
Info:
Monk (as he is almost always called) is an American bruiser living in Japan but working in grey ops for Praxis, a US tech and corporation with offices in Japan. He has augmented strength thanks to the kit given to him by Praxis; it is ambiguous if this comes from cybernetic limbs, a nanofilament exoskeleton, drug enhancement, or something else.
Motto:
"I didn't come here to talk."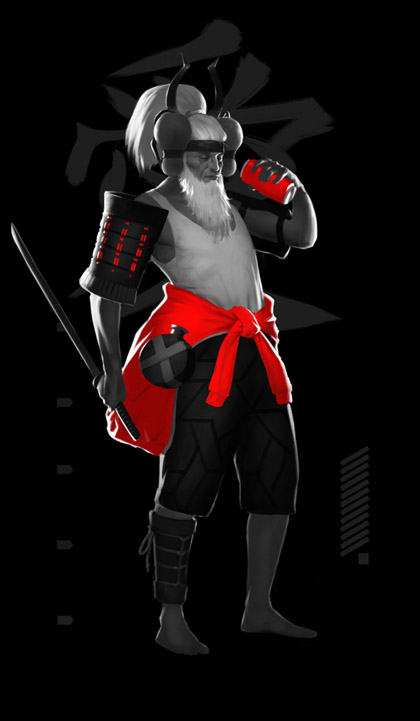 Drunken Master
Ronin

Favorite Weapon:
Chokuto
Info:
Old and battle-forged samurai fighter called Ronin who gave up on his former dreams and masters and now wanders lands with no hopes for the future. However, his heart is kind and he always finds free time to help people in need.
Motto:

Cyber-Geiko
Chocho

Favorite Weapon:
Wakizashi
Info:
Chōchō has abandoned her career in pursuit of the vengeance she feels is required to restore her family's honour. She joined – and has come to lead – the Resistance against Praxis, an American tech corporation with a stranglehold upon the city of Yumekyo and its surroundings.
Motto:
"Alas, honour does not permit me to let you leave."

Samurai
Daisuke

Favorite Weapon:
Katana
Info:
The Chief Samurai serving the Daimyo Ashikaga Kōgon (a political rival to the Shogun, Takeda Shingen). Ashikaga has seen the conflict between tradition and the outside world and decided that an alliance with the Americans via the hugely powerful tech corporation, Praxis, is the only hope for Japan to survive in the new world order.
Motto:
"You have no conception of the forces you have unleashed here, whelp."